Main content starts here, tab to start navigating
Making people happy since 2009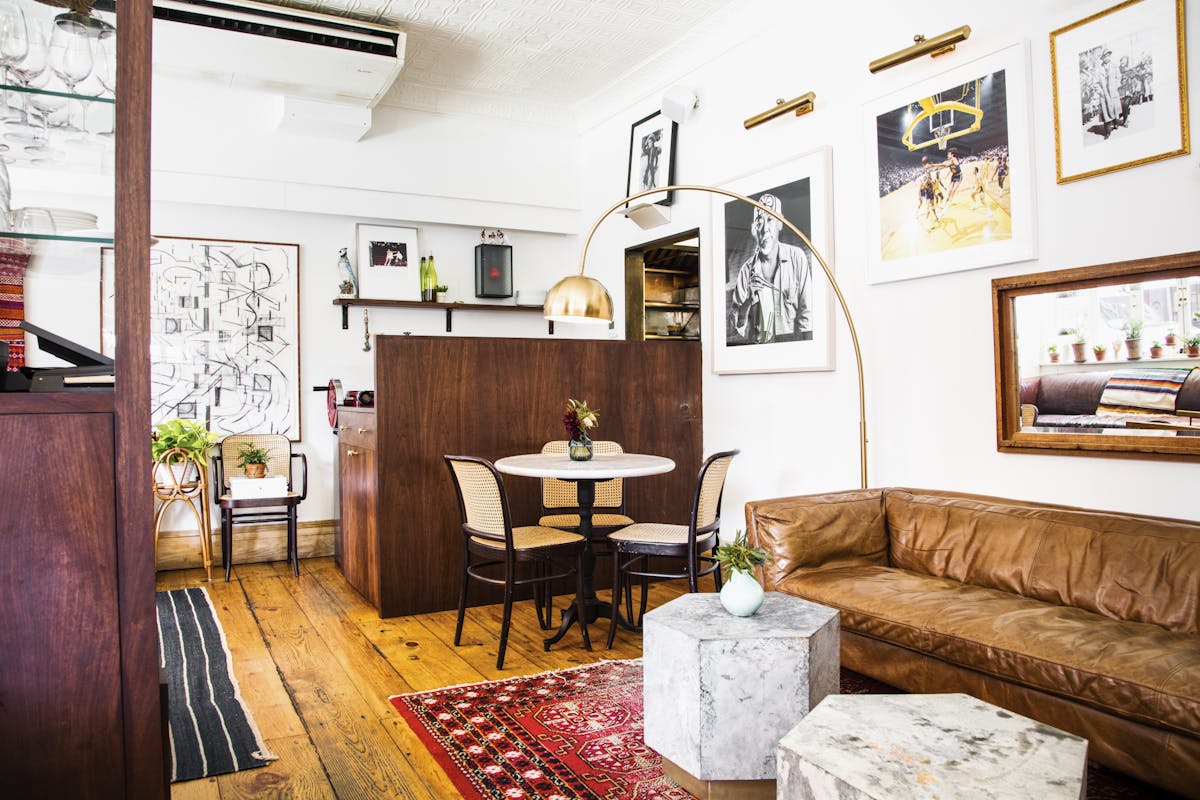 1998 - 2003
Founder Gabriel Stulman spends several years working in local restaurants in Madison, Wisconsin while attending college there. During this time, he falls in love with the restaurant industry and meets many of the people who would later become part of the Happy Cooking family at local restaurants including Café Montmartre, Magnus, The Great Dane, and Paul's Club.
2003-2008
Upon graduation from UW Madison, Gabriel moves to New York City and begins working in Manhattan restaurants. He works his way up from bartender to eventually opening The Little Owl and Market Table as a partner.
2009
Gabriel along—with his wife, Gina, chef James McDuffee and partners Matt Kebbekus and Brian Bartels—open Joseph Leonard in a small corner space in the West Village.
October 2010
The team opens Jeffrey's Grocery across the street from Joseph Leonard. Originally conceived of as a hybrid food market and lunch counter, the space soon evolves into a full-service, all-day restaurant with a focus on seafood.
January 2011
Longtime West Village restaurateur Fedora Dorato approaches Gabriel and Gina to take over the space where she'd operated her eponymous bar and restaurant since 1952. Mehdi Brunet-Benkritly joins the team as Fedora's chef, with Brian Bartels overseeing the cocktails.
Also in January 2011
The restaurant group's nickname, "Little Wisco," is coined in a profile of the growing company in The New York Times, which highlights the number of Wisconsonites working at the restaurants and their emphasis on Midwestern hospitality.
March 2012
The Little Wisco team opens Perla, an Italian restaurant on Minetta Lane.
December 2012
Gabriel and Mehdi open Chez Sardine, an izakaya-inspired Asian restaurant.
March 2013
The group ventures outside of the West Village for the first time by opening Montmartre, a modern French bistro located in West Chelsea.
July 2014
Chez Sardine becomes Bar Sardine, a bar and restaurant serving upscale pub food and whimsical craft cocktails.
November 2014
Little Wisco officially transitions to the company name Happy Cooking Hospitality, meant to better reflect the company's mission and diverse makeup as it has grown since 2009.
March 2016
Montmartre serves its last steak frites. Goodbye West Chelsea, thanks for all the good times!
Also in March 2016
Perla packs up and moves a few blocks from its first home on Minetta Lane to new digs at 234 West 4th St. The Happy Cooking restaurants are now all neighbors - the new Perla cafe, bar Sardine and Fedora are all within a block of each other, with Joseph Leonard and Jeffrey's Grocery across 7th Ave.
July 2017
Perla Cafe is transformed in to Fairfax, an all-day cafe and wine bar. The space is inspired by the comforts of a design focused living room curated by Gabe and Gina and perfect for anything, anytime of day.
January 2018
We travel out of the West Village in to Gramercy with our new partners, The Sydell Group, in opening three properties within The Freehand Hotel: Simon & The Whale, Studio and George Washington Bar.
April 2018
Fairfax is one of ten restaurants nationwide, and the only one in New York City, named Best New Restaurant of the Year by Food & Wine.
August 2019
We welcome our new neighbors in NoHo as we open The Jones, an all-day neighborhood space on historic Great Jones Street. Walk in, hang out.
August 2020
Bar Sardine serves it's last Fedora Burger and Fries on the magical corner of West 4th and West 10th Street. Head across the street to Fairfax where the infamous burger lives on.
September 2020
Last Call is issued as the historic doors of Fedora close. Cheers to all the memories and Black Squirrels we shared together!
May 2020
The Jones transforms into Jolene; a bistro and cafe serving classic cocktails, satisfying food, light salads, cold beer, good wine and easy living.